Environment
Minimize Environmental Impact of Our Global Operations
Achieve carbon neutral status for all global operations by end of 2025.
Reduce global process water and/or wastewater by 25% by 2022 using 2016 as baseline.
Achieve global operations solid waste recycling rate of 75% by 2020.
In 2017, we established new environmental goals with respect to greenhouse gas (GHG) emissions, water reductions and solid waste recycling. Our GHG goal is to be carbon neutral by the end of 2025 and achieved through: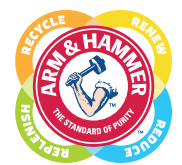 Reduce – our overall consumption of energy from our operations and transportation.
Recycle – continue the successful recycling efforts at all operations.
Renew – support the generation of clean green energy.
Replenish – Partner with organizations, such as the Arbor Day Foundation, to offset our GHG emissions.
Learn more about how we are managing for environmental sustainability and safety in the 2017 Sustainability Report.